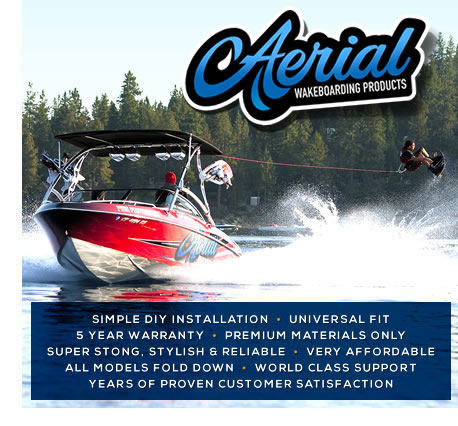 Start wakeboarding from your boat quickly, safely and affordably! Adding an aftermarket wakeboard tower package with accessories can be one of the best investments and the most attractive upgrades you can make to your boat. Aerial wake towers are a fraction of the price of factory OEM towers and offers a great range of styles for a customized look.

Luckily for you, all Aerial products are designed for easy installation! By using a few common tools and following our detailed step-by-step instructions, you can absolutely install your own Aerial wake tower with just a little planning and patience. Our full line of tower accessories bring a lot of extra functionality and are even easier to install. All Aerial speakers are pre-wired and all racks, mirrors, biminis and other accessories simply clamp to your existing boat tower's tubing in minutes.
We're here to help! If you need any answers about our products, the installation process or have questions specific to your boat's year, make and model, please call us at (949) 407-5009 send us an email, or use our live chat messenger at the bottom right of the page. Our office hours are 9-5, Monday-Friday PST.
---
Looking for Aerial Wakeboard Tower Dealers and Installers in Your Area?
View Aerial Authorized Shops Locations in the United States / Canada / Worldwide
---
We run a tight ship with a fully staffed team of professional and knowledgeable sales, support and shipping departments. We give each and every customer and order the highest quality of service possible. We do everything in our power to ship out the correct order in a timely manner and we take pride in inspecting every product before it is shipped. Your new product was manufactured and assembled to meet very strict quality standards to ensure . We ship thousands of products every year to customers who are extremely impressed with the quality, craftsmanship, materials, attention to detail, strength, performance and of all our products. We have built our business not with expensive advertising, but almost entirely on word-of-mouth referrals from all of our happy and loyal customers at the lake, in their boats and using our products.
Because of our attention to detail, dedication to quality and strict manufacturing processes and standards, it is very rare for us to receive complaints about our products. However, please be aware that due to the nature of aluminum and stainless steel manufacturing and welding, sometimes minor blemishes, scratches and/or nicks may be visible on the product. SUCH MINOR BLEMISHES, SCRATCHES AND/OR NICKS ARE NORMAL AND ARE NOT A VALID REASON TO RETURN A PRODUCT. If you believe that your product shows excessive blemishes, scratches or nicks, you must send us an email within 3 days stating your concern. DO NOT WAIT TO INSPECT YOUR PARTS! Your email must include photographs that clearly shows the size, pattern and locating of the blemish, scratch and/or nick. If something went wrong in the manufacturing process, we will absolutely take responsibility for it.
If you are inspecting a part that needs assembly, be sure you do not misplace any small parts (bolts, inserts, etc.) by keeping them all together in one place until you are ready to install.
Warranty on speaker enclosure, clamps and hardware has a limited 5 year manufacturer warranty against defects. The speakers themselves are subject to their respective manufacturer (Polk, JL Audio, Fusion, etc.) warranty and replacement procedures.
Before sending out a replacement, Aerial Wakeboarding must receive the defective product(s) first to examine the unit(s) for evidence of a manufacturer defect. Before sending a product back to us, you must first fill out the RMA form below.
Aerial's 5 year warranty starts from the purchase date and covers defects that have occurred during the manufacturing process. Following a physical inspection that determines a valid warranty claim, Aerial will- at its discretion- replace, send replacement parts or reimburse for the repair of any eligible products. The anodized or powder coated finish and hardware are excluded from the warranty coverage. Aerial is not responsible for personal injury, boat damage or equipment loss directly on indirectly related to our products. This warranty does not cover damage due to acts of God (fire, flood, lighting, etc.) nor product misuse and accidental damage. Any cost of shipping and installation related to the return and replacement of products is the responsibility of the customer unless otherwise deemed by Aerial. Aerial disclaims any warranty of merchant-ability or fitness for a particular purpose in connection with the Buyer's purchase of units of any Product under this agreement. Defects must be reported within 30 days from the receipt of purchase.
All Aerial Wakeboarding products and accessories have been carefully designed, manufactured and tested to meet the highest standards of quality and performance to be extremely well suited for a specific purpose. If any product is found to have been modified, altered, incorrectly installed, mistreated, neglected, improperly maintained, used for purposes it was not originally intended for or used beyond its physical limitations of design or material, any and all warranties will be deemed void. The warranty period shall not be extended by the replacement of materials under this warranty but the remaining warranty period shall continue in effect and be applicable to the replaced or repaired products or component parts areas under conditions of the warranty.
THIS LIMITED WARRANTY IS IN LIEU OF ALL OTHER WARRANTIES, EXPRESS OR IMPLIED, INCLUDING, BUT NOT LIMITED TO, THOSE CONCERNING MERCHANT-ABILITY OR FITNESS FOR A PARTICULAR PURPOSE. THIS LIMITED WARRANTY IS ALSO IN LIEU OF ANY OTHER POSSIBLE LIABILITIES OF THE SELLER OR MANUFACTURER, WHETHER ALLEGED TO ARISE BY AGREEMENT OR BY OPERATION OF LAW. RESPECTING THE SALE , APPLICATION, USE OR FUNCTION OF PRODUCTS, INCLUDING BUT NOT LIMITED TO CLAIMS OF NEGLIGENCE, GROSS NEGLIGENCE, STRICT LIABILITY OR ANY OTHER TORT. IN NO EVENT SHALL THE SELLER OR MANUFACTURER BE LIABLE FOR PERSONAL INJURY OR PROPERTY DAMAGE, REAL OR PERSONAL, ATTRIBUTED TO ITS PRODUCTS, NOR FOR ANY EXCAVATION, REMOVAL, REAPPLICATION, DOWNTIME, CLEANUP, LOSS OF USE, LOSS OF OPPORTUNITY, LOSS OF MARKET VALUE, LOSS OF RENTAL VALUE OR FOR ANY LOSS OF PROFITS OR OTHER SPECIAL, INCIDENTAL, RESULTING, CONSEQUENTIAL OR EXEMPLARY DAMAGE.
For any products we sell but do not manufacture, that product's manufacturer warranty applies and RMA requests must be made with them.