Wakeboard Towers & Accessories
by Aerial
Dedicated to performance, style, quality and value, all Aerial Wakeboard Towers and accessories are expertly hand crafted using the best materials and components available assisted with ultra precise hi-tech manufacturing equipment and are beautifully engineered using the latest in 3D computer-aided design software. The result is a full line of affordable aftermarket wake boat products that truly perform, are incredibly strong, durable and feature classic head-turning styles. Best of all, we sell our products at a very affordable price without sacrificing a single inch of quality. Our innovative universal wake tower designs are adjustable to ensure a perfect fit on almost any year, make and model boat. We stand by our workmanship with an amazing 5 year warranty and provide customer and product support for the life of original ownership.
Aerial's mission is to deliver the same quality, style and fit of factory or custom wakeboard towers and accessories but without the expensive OEM or custom fabricated price tag. Make the right investment in your boat and your sport with an original Aerial Wakeboard Tower package just like our valued customers have!
Have questions? Our team is ready to help you:
USA & International: (949) 407-5009
Average Customer Rating:
4.9 /

5 Total Reviews:

572

Votes

590





Love the Aerial Airborne 2.0 wakeboard tower. Easy installation and has held up well through it's first season. The tower added a very sexy look to the boat. I get tons of compliments on the boat and tower every time I launch.
Wakeboard Tower
Reviewed by

Regan Higgs
Muskegon
on





Absolutely love it! Wakeboard tower with speakers, flag holder and mirror. Totally upgraded our wakeboarding experience, cleaned up the floor of the boat and added some bumping tunes. Now everyone wants to be in out boat. Let's just say my teenage boys have an easier time picking up girls now...
Wakeboard Tower
Reviewed by

Brian LaBree
Renton, Washington
on





Rating: 5/5
I added the Assault Tower & Eclipse Bimini to my 1994 Tige... the lake party will never be the same!!! It can be difficult to modify older boats, but Aerial makes it easy with high quality products and easy application!
It gets hot as hell in Texas and with all of our lakes full from early summer rain, we are on the lake as much as possible. Eclipse Bimini in Texas is a MUST! Thanks again for building a great product! GOD BLESS TEXAS & BIG WAKES

Wakeboard Tower
Reviewed by

Wesley Kammer

@Dallas, Texas on





The Freeride tower has added so much to our boat! It looks a decade newer, allows us more seating room, and carries all of our most important equipment! Skiing and wake boarding from this tower is awesome! It is solid and the install was easy to do in one day. I would absolutely recommend to anyone!
Wakeboard Tower
Reviewed by

John Batovsky
Pittsburgh, PA
on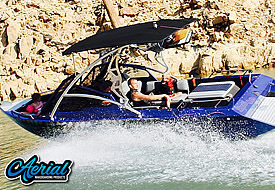 2002 Boice Jet Endevor
w/ Aerial Assault Wakeboard Tower with Surf/Wake Racks, Twin Bullet Speakers & Eclipse Bimini
Rating: 5.0 out of 5
"I purchased an Aerial Assault tower package. The customer support team was great before and after my purchase. Since I bought my tower, people tell me how great my boat looks every time I take it out. "

Wakeboard Tower Review by
Jim Braun | Estacada , Oregon
Wakeboard Tower Features
Universal Tower Designs Fit Most Boats
Super Strong & Stable Performance
Head-Turning, Stylish, Classic Designs
Simple & Quick DIY Installation
All Wakeboard Towers Fold Down
Superior Mounting Foot Designs
T6 6061 Aircraft Grade Aluminum
Highest Level of Craftsmanship
Strict Quality Control Standards
Industry-Best 5 Year Warranty
Fully Staffed Sales & Support Team
Years of Dedicated & Satisfied Customers